In 2011 White River Ag installed a modern high tech pellet milling operation that turns bales of straw  into compressed pellets.  In the beginning, these pellets  were specifically designed here at WRAP as highly absorbent bedding pellets for horses and other animals.
The following video takes you through the entire process of creating the bedding pellet here on the farm, from planting in the spring to bagging in the mill.  It also discusses the benefits of using this type of product.
As discussed in the video, the following benefits can be expected by our bedding pellet:
Highly absorbent pellet (3-4 times their own weight)
Production cook process removes dust and dirt while baking out many types of mold or allergens
Straw pellets break down in weeks instead of months like wood
Stalls are quicker and easier to clean, reducing usual waste to about half
Reduced storage space when compared to bales of straw or bags of shavings
Reduced work time and labor costs
Reduced size but increased value of manure pile due to no harmful shavings that farmers don't want in their fields
100% natural and 100% made in the USA by local, hardworking farmers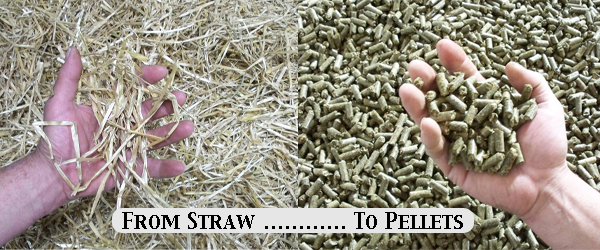 Our pellet milling operation at White River Ag Products is a green process that allows us to minimize the waste we create while producing superior quality pellet products for the end consumer. At WRAP we're proud to be an American company who supports local economies by using straw grown by local farmers and employing local workers.  The best part is the end result, a fantastic product that holds a great value to those who use it.
At White River Ag Products we are always in the process of developing and testing new pellets both for bedding and feed operations, but currently our main offering is our  straw bedding pellets. While designed specifically with horses in mind they will work very well  for most bedding situations.  If you have questions or would like more information feel free to call us using the number on our contact page.  Also if you're interested in carrying our product or just would like to print off some information,