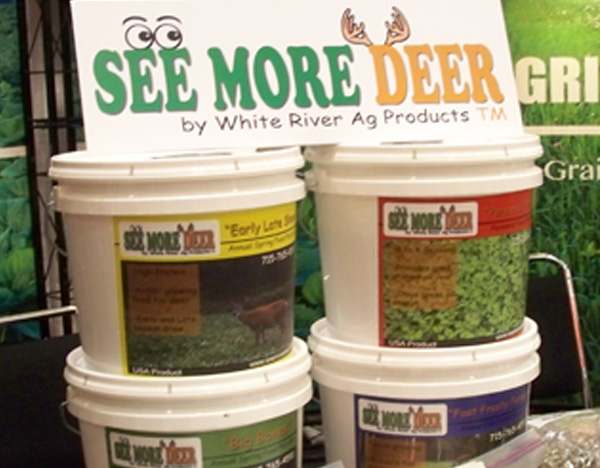 White River Ag Products had a booth at the recent Northland Deer Classic in Duluth MN.  At the booth,  outdoor enthusiasts could grab food plotting literature, a free pen, and even buy some SEE MORE DEER  food plot blends by WRAP.
The 5 day event starting on Feb 17 was busy and well over 20,000 people came through to check out the latest hunting and fishing products.  Our goal was to sell some seeds and let people know we exist here in the Northland, that our farm isn't too far from home.  Over all,  I think it was a huge success and we plan to see a lot of post show traffic to our website and retail store at the farm stated Bryan Custer, marketing director for WRAP.
Because of the incredible attendance, WRAP staff nearly lost their voices from talking so much.  There's still a ton a snow on the ground here in the Northland so folks know they have time to think about and research products, said Peter Mikhael, media specialist and product development for SEE MORE DEER.  Come April, all those wonderful conversations we had at the show are going to translate to a lot of calls and visitors to our retail store in Mason.
Educating folks on food plot seed was just part of the fun.  White River Ag Products was able to meet some fantastic vendors from around the area, country, and even overseas. Additionally, the local newscasters from Channel 6 and 3 were in a booth across from us.  Most interesting of all may have been meeting Pennie and Bert How of Peel Forest Safaris out of New Zealand.  Yes, New Zealand.  They flew all the way to Duluth, the first of two shows they're doing in North America, to book hunts for those who have always wanted to go after Red Stag, Tar, Chamois, and more down under.
If their hunting is as wonderful as their personalities, and I'd bet it is, you'd have a fantastic adventure down in New Zealand with Bert and Pennie.  I'm really glad we were able to connect with them here in Duluth, said Bryan.  If the 5 day event was any indication, you'll always have a good conversation.  Bert's passion for hunting was plain to see for all who met him.
Anyone interested in a New Zealand hunting or sightseeing adventure should definitely check them out.  Just visit their website for more details  www.peelforestsafaris.com.  
So with one successful show down for 2013, White River Ag Products looks forward to the next.  As always be sure to stop by the WRAP retail store or give us a call 715-765-4591.